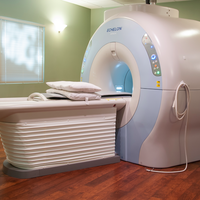 In January 2012, Tri-Valley Orthopedic Specialists (TVO) added a full-body MRI scanner to our Pleasanton facility (4626 Willow Road). Our Open MRI extremity scanner is now housed in our Tracy facility (2180 W. Grant Line Road). For more information, or to schedule an appointment, please call .
What is an MRI?
Briefly, Magnetic Resonance Imaging (MRI) is a painless, non-invasive technology that has been in use for over twenty (20) years. It allows physicians to see highly detailed, "cross-sectional" images of the body to assist in the diagnosis of injury/illness.
The orthopedic MRI scanner in the Tracy office uses an innovative, open C-shaped magnet, while our Pleasanton office houses a patient-friendly short bore 1.5 Tesla high-field magnet.
What types of MRI studies can be performed?
Our Tracy Open MRI provides quality orthopedic extremity imaging for shoulders, elbows, hands, wrists, fingers, knees, ankles, feet and toes. Our Pleasanton high-field scanner performs all of the above areas as well as neck, mid and lower back, and hips.
Who will evaluate the diagnostic images from my MRI?
Selected Radiologists from NorCal Imaging in Pleasanton will interpret your MRI scan and provide a written report which your doctor will use, along with the images, to provide an accurate diagnosis.
What is the procedure for obtaining an MRI?
The MD's Patient Care Coordinator (PCC) will give you the MRI Information Packet/Screening Form and a Physician Order Form will be forwarded to the MRI department. Your insurance will then be contacted and authorization obtained as needed. (This can take up to 2 business days). Upon approval from your insurance, you will be contacted by the MRI department to schedule your appointment.
You will need to bring the completed Magnetic Resonance Screening Form to your MRI appointment and it will be reviewed by the MRI Technologist. (If you answered "yes" to having a Pacemaker, aneurysm clips and/or cardiac stents or filters, please contact the MRI department immediately.)
You are asked to arrive at least 10 minutes prior to your scheduled appointment time. Per the information sheet, you will be asked to remove anything metallic or that can be de-magnetized, i.e., keys, cellphone, watch, credit cards, belts, glasses, dangly jewelry, dentures, hearing aids, insulin pumps, bras (depending on area scanned). There is a secure dressing room where you can leave your personal items.
If you did not receive the information packet/screening form from the PCC, it can be obtained in the DOWNLOAD PATIENT FORMS section under "Patient Resources" on the homepage.
What are the safety precautions involved with an MRI?
MRI scanning is a relatively safe diagnostic tool. However, if you have a pacemaker, implanted defibrillator, aneurysm clips, or certain types of cardiac stents/filters you may NOT be allowed to enter the MRI room! If you have any of the above, please inform your doctor or the MRI Technologist prior to scheduling.