Ian A. Stine, M.D.
FELLOWSHIP-TRAINED BOARD-CERTIFIED ORTHOPEDIC SURGEON
Specializing in Sports Medicine, Trauma, & Joint Reconstruction
"Individualized and compassionate patient care with a modern approach"
Dr. Stine is a fellowship-trained board certified orthopedic surgeon specializing in sports medicine, trauma, and joint reconstruction. He has a passion for treating athletes ranging from the pediatric to the aging athlete. Whenever possible he utilizes non-surgical rehabilitation to return patients to pain-free activity and high-level performance. For more severe injuries, he performs arthroscopic surgery of the elbow, shoulder, hip, knee, and ankle. ACL reconstruction in recreational and competitive athletes is a common but significant injury which Dr. Stine treats with the latest scientifically proven arthroscopic techniques. He has a special interest in the field of joint preservation with significant experience utilizing cartilage restoration to keep patients active with their native joints for as long as possible. Hip arthroscopyis a new and exciting field in orthopedics that allows a minimally invasive approach to the treatments of many hip conditions. Very few surgeons have experience or training in this technique.
Dr. Stine is proud to offer patients this innovative solution to hip problems that don't respond to conservative measures. When necessary, Dr Stine performs joint replacement of the hip, knee, shoulder for severe arthritis. After training at a large joint replacement center, he offers patients minimally invasive incisions to speed recovery and utilizes cutting-edge implants to ensure the longevity of the new joint. Trauma and fracture care is a common orthopedic problem that needs to be handled with a modern approach as well. Dr Stine is a surgeon that our local Emergency rooms call on regularly to handle simple and complex orthopedic fractures.
Education and Awards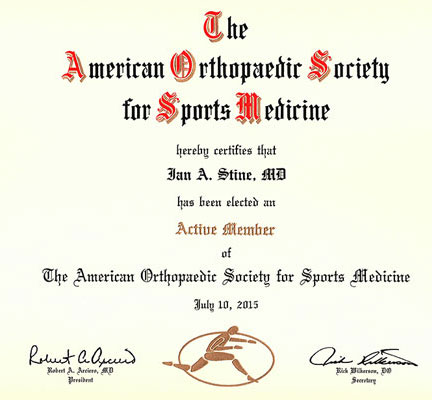 Sports Medicine Fellowship: Sports Orthopedics and Rehabilitation (SOAR), Director Michael Dillingham, MD. Stanford Hospital Physician. Palo Alto, CA Orthopedic Surgery and Sports Medicine Residency: University of Southern California (USC), USC University Hospital, Children's Hospital of Los Angeles, Los Angeles Country Trauma Center. Los Angeles, CA Medical School: Emory University, Atlanta, GA. Awarded Alpha Omega Alpha for academic excellence. Undergraduate: University of Arizona. B.S. in Exercise Sports Science. Graduated Summa Cum Laude. Tucson, AZ
Athletic Team Coverage
Current: Dublin High School Team Physician, Sports Performance Institute of San Ramon advisor and consultant
Previous: University of Southern California athletics, San Francisco Giants, Santa Clara athletics, Foothill college athletics, Menlo college athletics, University of San Francisco athletics, DeAnza college athletics
Credentials
Diplomate, American Academy of Orthopedic Surgeons (AAOS)
Member, Arthroscopy Association of North America (AANA)
Member, American Orthopedic Society for Sports Medicine (AOSSM)
Member, California Orthopedic Association (COA)
Personal: Dr. Stine enjoys living locally with his wife, Taryn, and their two children. He lectures regularly in his community on sports injury prevention. He is an avid outdoor athlete enjoying snow skiing, rock climbing, SCUBA diving, water skiing, running, mountain biking, kayaking, surfing, and mountaineering.